Optical Fibre Cabling Systems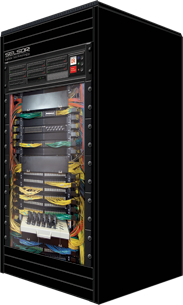 Selsor Optical Fibre Cabling system is used for campus/building data networks (LANS and WANS) and Data Centres and provide modular build for the entire passive network infrastructure. Optical Fibre Cabling systems are a modular build and the general components supplied are listed below:-
Optical Fibre Cable including single-mode, multi-mode, tight buffered, loose tube, duplex zipcord and armoured variations. Sheath material and colour varies dependent upon your requirements.
Fibre Optic Connectors including; ST, SC, LC, FC; and Fibre Optic Attenuators.
Fibre Optic Adaptors including; ST, SC, LC and FC.
Fibre Optic patch cords and pigtails with a variety of connectivity options including; ST, SC, LC, UPC and APC.
Fibre Optic Patch Panels straight and angled with choices of port density, multimode and single-mode, multiple pre stamped cable entry positions on rear. Each panel includes a suitable splice bridge to support the desired density of splices, cable management ties, fibre carousels to ensure the fibre bends radius and 4 x cage nut fixing set.
Fibre Optic MTP Cassettes in a variety of configurations and MTP to LC Fan Out Cables.
Fibre Optic patch boxes.
The Selsor Optical Fibre Cabling system is supplied with a 25 year warranty when installed to Selsor standards.