Shielded/Unshielded Twisted Pair Cables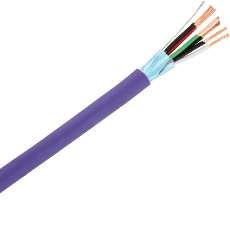 Selsor Twisted Pair Cables are used to deliver high data speeds for thousands of electrical and electronic applications, which is enabled by balanced signal transmission and lower cross talk. Twisted Pair Cables are used in applications covering RS-232, RS-422, RS-485, KNX, LonWorks, ModBus, M-Bus, CAN-bus, BACnet and general interface systems.
There are two twisted pair types: shielded and unshielded. Shielded Twisted Pair has a shield surrounding the conductors to protect the transmission and reduce interference, whereas Unshielded Twisted Pair cables do not.
Selsor manufactures multiple configurations of Shielded / Unshielded Twisted Pair Cables covering numbers of pairs/quads, conductor size and type, insulation compounds, shielding options, drain wires and sheath/jacketing compounds. This means you can be sure of a cable that is suitable to your environmental conditions whilst delivering optimal transmission performance.
Selsor Twisted Pair Cables conform to relevant standards and are supplied with Selsor product warranty.
Available Products